What We Do
Baby spa and massage sessions that soothe babies and create a beautiful bonding experience for parent and child.

The hour-long sessions are held in convenient locations for small groups. Each session will include an opportunity to use our fantastic mini spa baths as well as massage tuition from our qualified instructor. Suitable for
babies from their 6 week check up to crawling.
What Our Customers Say
"Had the most amazing time today at the Little Ducklings Baby Spa 🦆. My little one absolutely loved the experience and we can't wait to be back again!" - Aria

"The instructors thoughtfulness is just WOW! I loved learning how to massage my baby and will definitely incorporate this into our evening routines from now on. Oh and we will definitely be back. Thank you 💗" - Greta

"Had the most incredible time with my little one today at Little Ducklings Baby Spa. Albert absolutely loved the jacuzzi and massage, it has relaxed him so much he fell straight to sleep! Siobhan was absolutely amazing with the little ones, so gentle and friendly with us mums. Cannot wait to be back, thank you so much xx" - Tilly
Here's what to expect...
Our sessions are designed to be fun, relaxing and stimulating for baby and delightful for parent or carer.
Spa Whirlpool Baths
Our amazing Spa Whirlpool Baths are wonderful for babies to sit in and play. They have gentle jets of bubbles that rise through the water and tickle toes. The baths also light up in a variety of colours to stimulate baby's developing brain.
We just wish they made bigger versions that we could sit in!
Massage
You will receive expert instructor-led massage tuition using the highest quality food-grade organic oils.
Baby massage encourages beneficial hormones that control stress. This can reduce crying and helps baby relax and sleep.
You will have a wonderful bonding experience with skills you can learn and apply at home
Sensory
With a calming soundtrack and brain-stimulating lighting, babies will find our spa experience both relaxing and entertaining.
Babies are amused with bubbles in our spa baths and from a bubble machine that fills the air with colourful bubbles.
We use soft textiles that comfort and keeps your baby cozy and warm.
Memories To Keep
We will take lots of photos so you can share them with friends and family afterwards and see what you've been up to!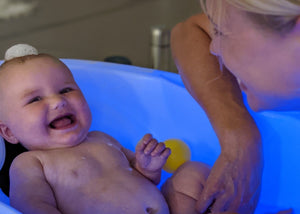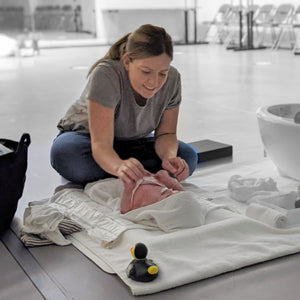 4 for the price of 3
Our Spa sessions are very popular and everyone wants to come more than just once.  Our multi-session pass gives you a lovely big discount and you get more spa time with baby. Win-Win!
Save Now
Baby Spas can come to you!
Do you have a group or party that would like to have the Little Ducklings Baby Spa experience? Sometimes it's not convenient to get to one of our locations at a particular time and date. Especially if there's a gang! It's perfect for NCT groups, baby showers or groups of friends.
Use our contact form to enquire about one-off bookings.
Could you host Little Ducklings Baby Spas?
We are looking for new venues and are keen to bring the Little Ducklings Baby Spa experience to new audiences. We'd love to hear from you if you think you have a suitable venue.